At the request of some beginner fisherman friends, I decided to make a short and informative article on how to make an Euro Nymphing Indicator.
Forget those big, American things that float like fishing bobbers. Forget the fluffy things made of all kinds of materials. They have nothing to do with European-style nymph fishing. They are good for other styles, but not for typical European styles (Polish, Spanish, Czech or French styles).
Euro Nymphing Indicator are used, in our case, to help the fisherman locate the nymphing line in difficult visibility situations.
They must be sufficiently visible but not bulky. They must not be heavy or influenced by the wind. Any extra weight added to the fishing line affects the sensitivity and the fisherman no longer detects the attack of the fish.
The simplest, quick and easy way is to add a few drops of colored resin to the fishing line:
I fix a Hanak super visible colored line into my vice:
Then, with a needle I add small drops of UV resin on the line:
I use a laser lamp for a short blast. Because my eyesight has weakened, I prefer not to spend too much time with my eyes in the UV light. So I use a desk UV lamp to make sure the drops harden: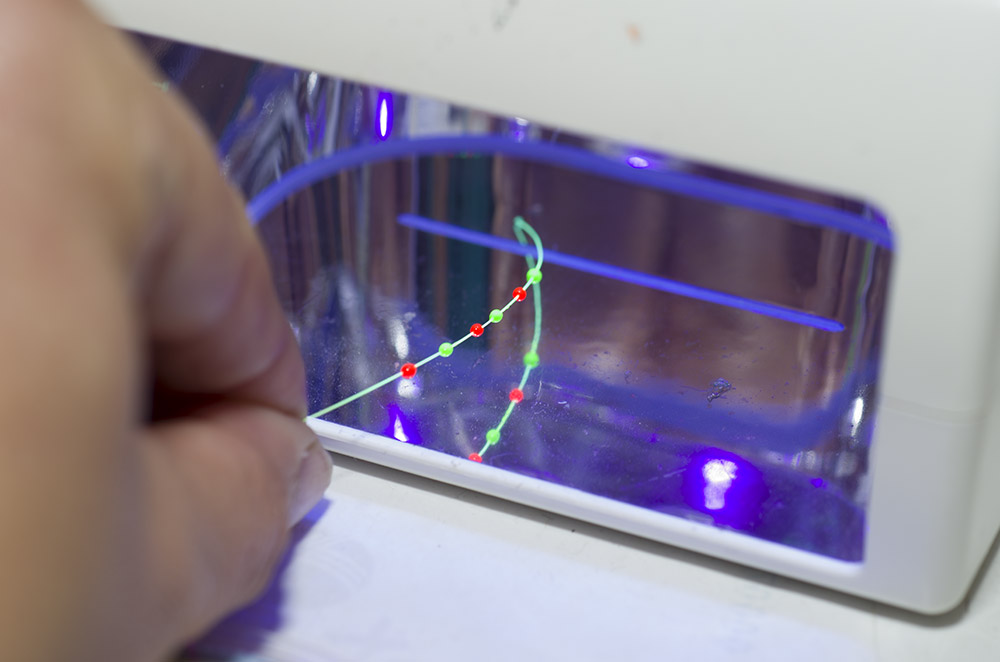 What's great about this type of leader is that these drops of resin can be repositioned as desired. This way you can see the fishing line better depending on the situation.
One important tip: Make small drops of resins because they cure faster. You can varnish them with transparent resin if you want them bigger.