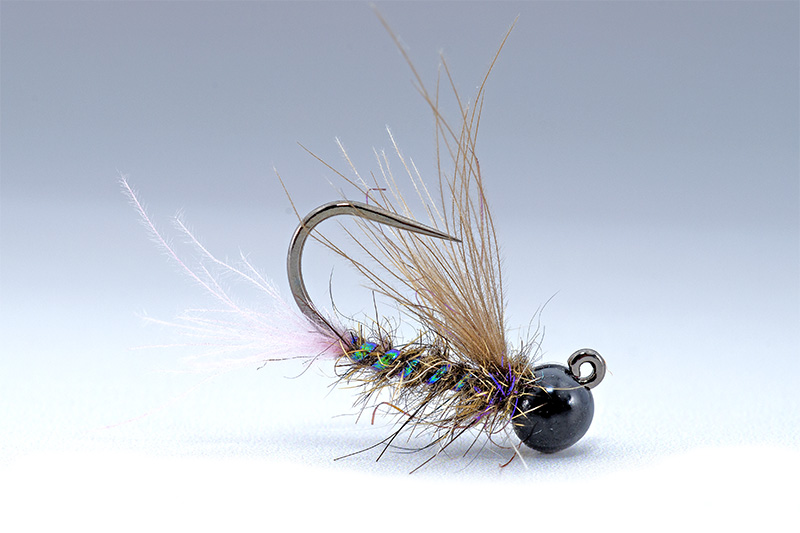 Winged Nymphs for Dynamic Nymphing could be considered a new frontier in fishing nymphs and a new way to tie flies. Some fly tiers consider them ugly. In terms of a classic construction and after the traditional rules to tie a nymph, these flies are quite ugly. These flies don't follow the rules for conical bodies or for the tail made from feather fibers. What about the typical streamer wings? Something like these was never seen on nymphs. But appearance is not important to these nymphs. Their goal is not to please the fisherman, but to catch fish.
Everything started from an attempt to find some nymphs that work well in the clear and often deep waters of whirlpools. Such places hold big and well educated fish. They have seen in many years of life almost all flies from all catalogs. They have been caught and released many times, becoming extremely difficult to catch.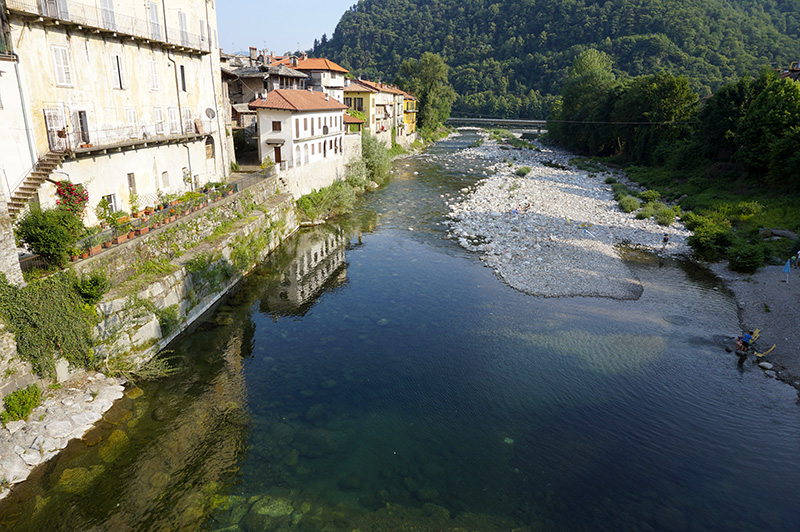 To get down in deep whirlpools the fishermen are using heavy nymphs, but more often they are stumpy. These flies catch fish in fast currents and also when the fish are hungry, early in the season.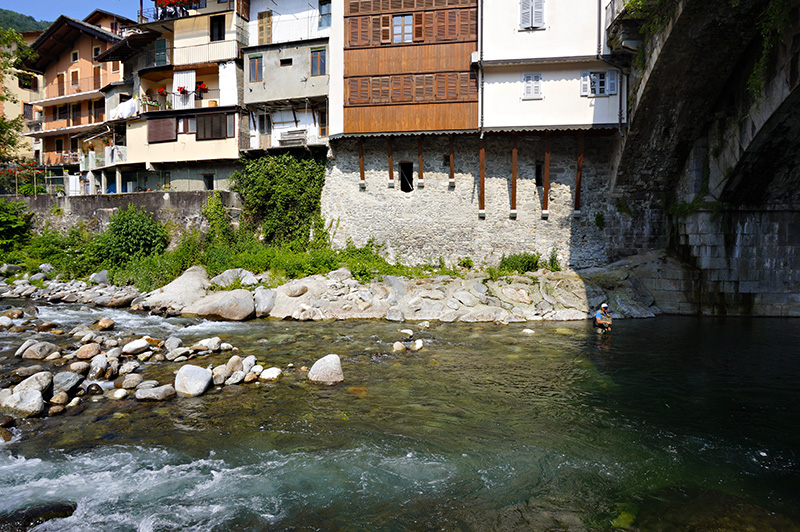 But these heavy or super heavy nymphs behave like small stones. If we use them in slow and clear waters, than they are bypassed by the big fish and they are often viewed with circumspection. In these situations a streamer works better but even this is not satisfactory unless the spaces are wide to allow his release and energize. In addition the streamers can't be kept and played on a short range for a sufficiently long time.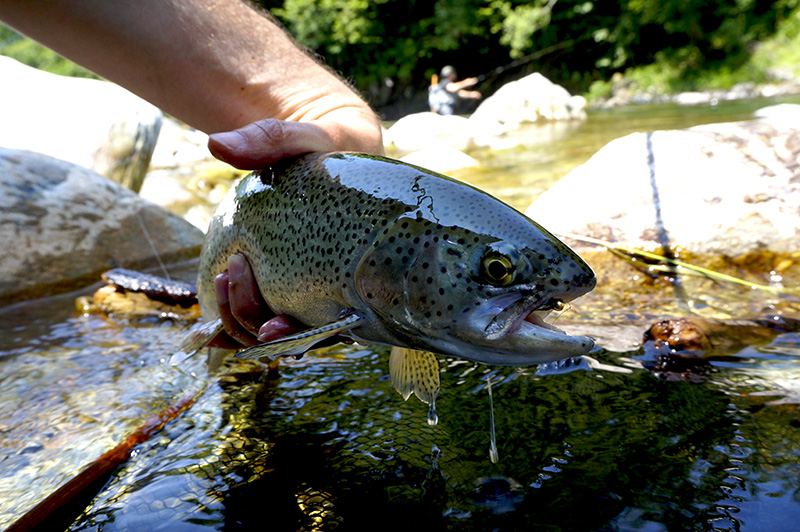 This model of winged nymphs was developed for a special purpose: to be used in clear and deep waters, where the currents are not very strong and where the educated fish are very careful and cautious in what passes by.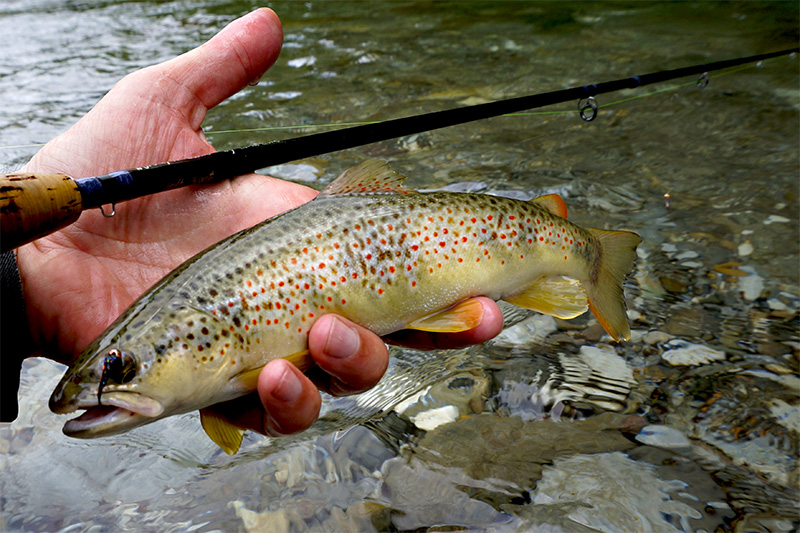 Therefore these types of nymphs have a slim body, tail and wing all CDC, with CDC wings applied between the thorax and tungsten ball.
Why CDC? This is because these special feathers have a fantastic mobility in water and the move with no resistance. A fly tied with CDC dive easier and faster than any other natural or even artificial material, because the density for this type of material is extremely small. For such nymphs all materials must be lightweight and to encounter minimal resistance to immersion. The body should be thin, but not inconsistent. All these features should give this fly maximum mobility in the water and a quick dip movement. CDC is, in my opinion, the best material that meets these requirements. It is well known that a heavy nymph is most often boorish and without mobility. "Winged Nymphs" must be heavy flies but dynamic, to easy pulsate in the water, to work on the smallest current or movement from the fisherman.
The idea is not new. For years some flies were tied with one turn of cock hackle and recently with CDC to increase the mobility. But "the wing" of CDC well illustrated and positioned by the construction, enable fishermen to a much better activation on short distances and determine the fish attack.
Now few words about this model:
The tail is atypical, a not very dense tuft of CDC for good water movement. If it's too short than will not move well and will only function as a hot spot. If is long enough than will flash and will move on the fall. If the fish take the fly, than it will not be disturbed by the great length of CDC because this material is very soft. If we use standard cock feathers instead, than the fish will feel them in less than a second and will try to spit the bite.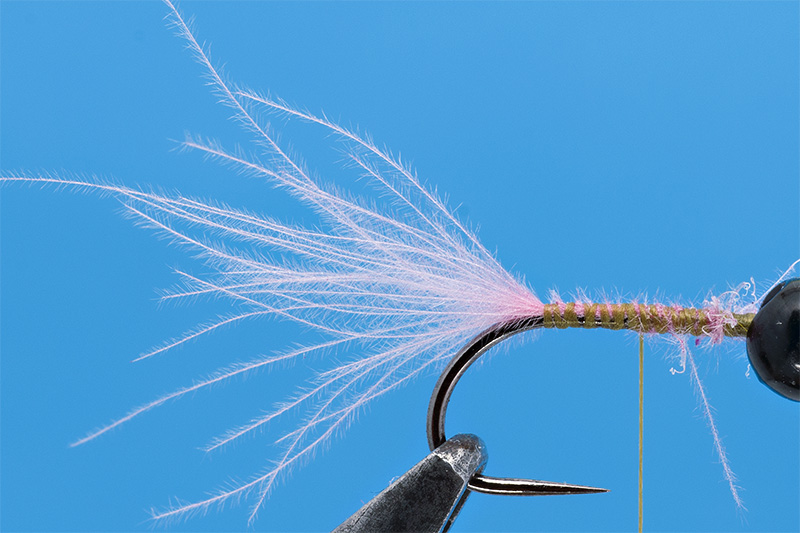 I use a thin thread, a UTC 70 Denier or a Uni Trico 17/0 to avoid increasing the volume of the fly body.
Then I fix a tuft of CDC. It is very important to not use the entire feather, with stem, because this will not move well in water.
Do not ever fix it oriented towards the point of the hook. This way will not have enough mobility in the water.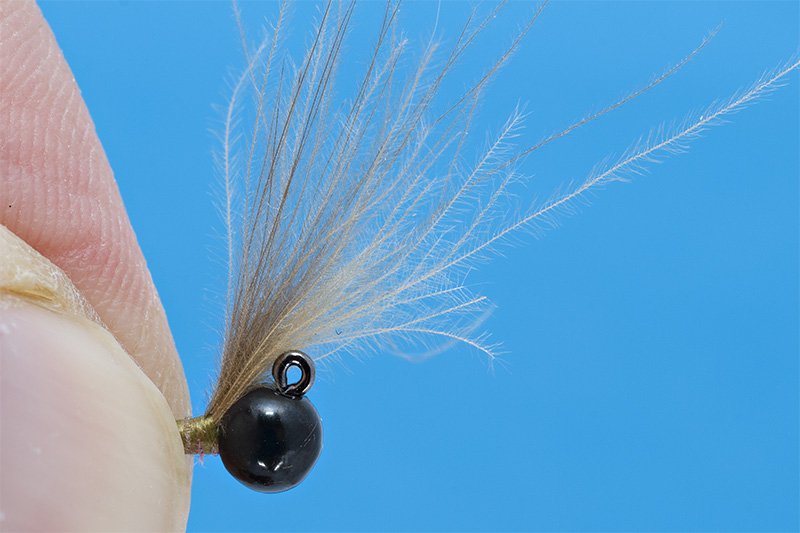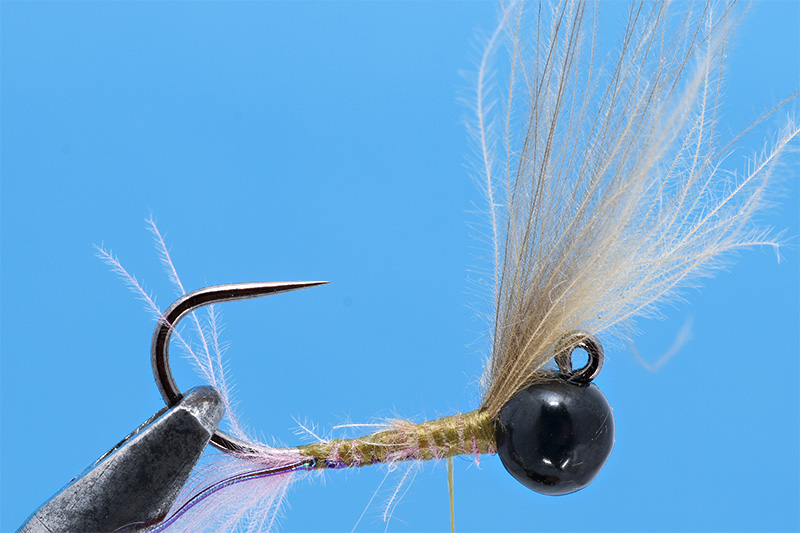 Then I make the body as thin as possible, I make the desirable ribbing and then I finish the fly with two or three turns for the final knot between CDC and bead. This way the CDC will be oriented toward hook tip as needed and no more.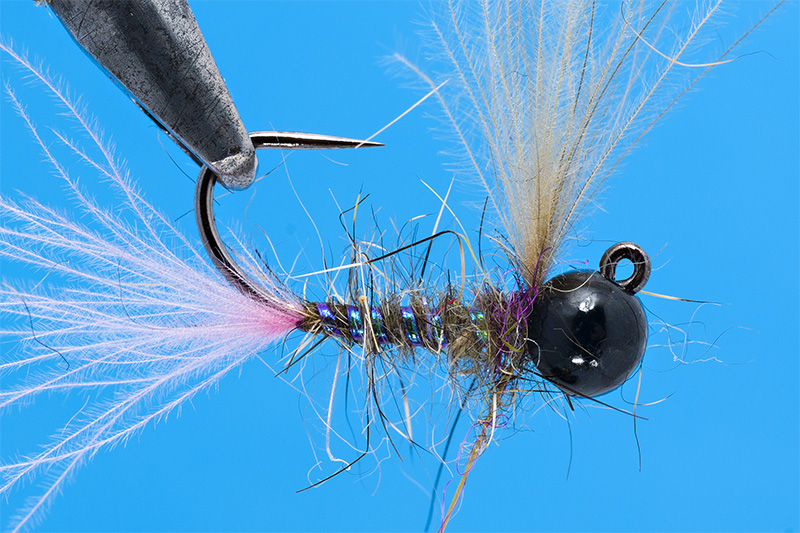 Finally the fly is ready, quick and easy to tie. But the recipe required approximately 2 years reaching the desired shape and action.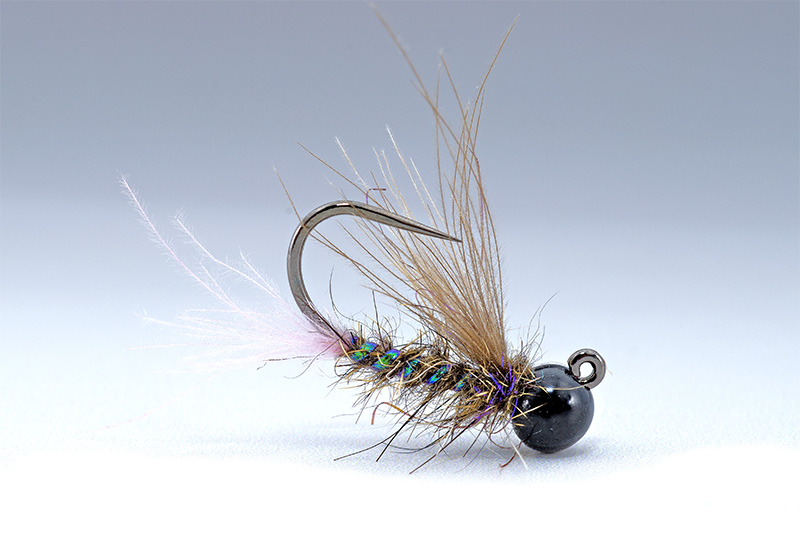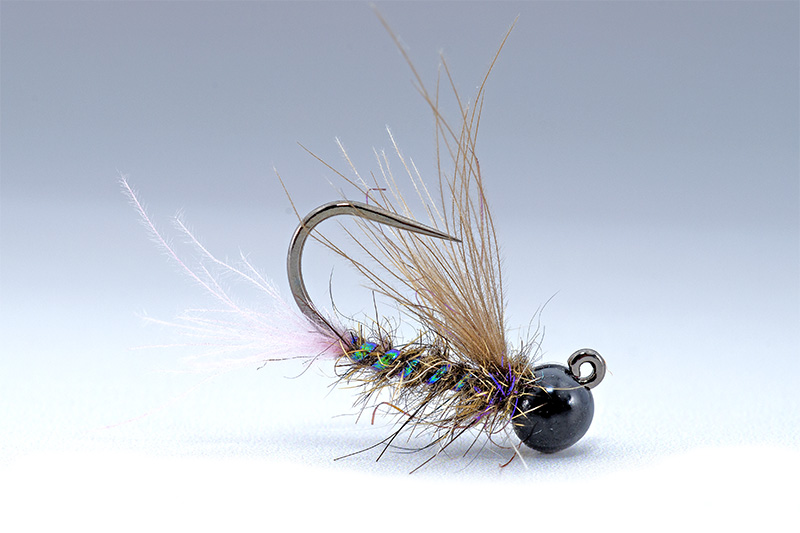 I tested this fly in extensively fished places, the catch and release areas of rivers from Italy, Slovenia and Poland. I had exceptional results with these types of flies and I recommend them warmly.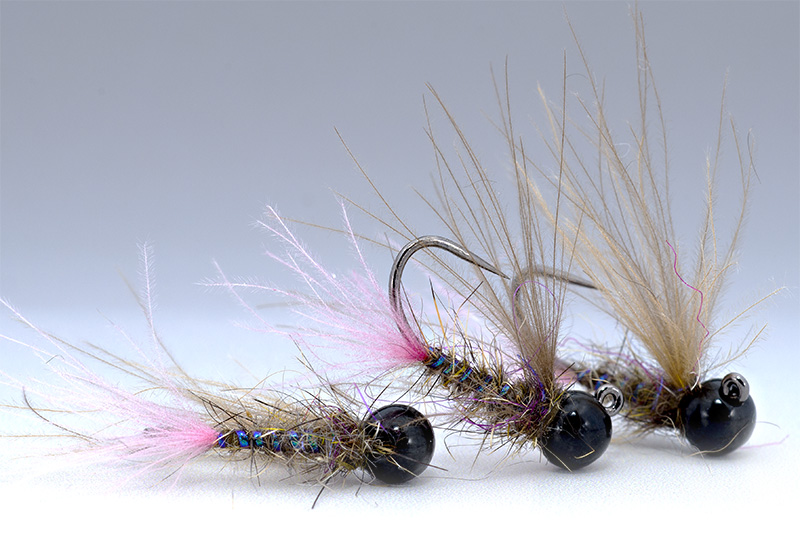 For those who don't have time to tie, but they want these flies in their box, they can be purchase from our store:
http://www.troutline.ro/troutline-special-winged-nymph-bl-m1