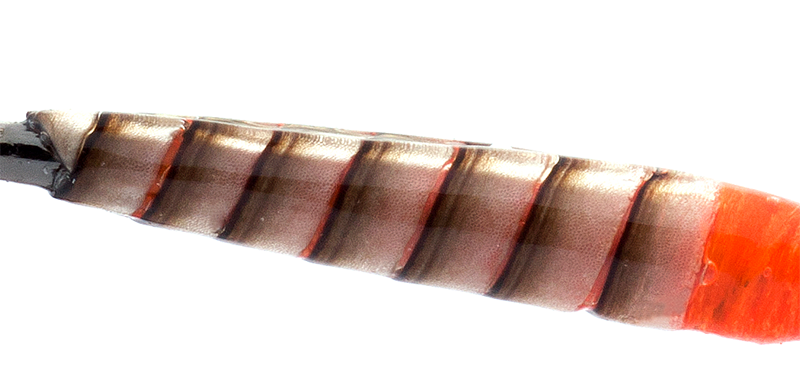 Trout Line have a new product for fly tiers : UV Resin in 2 types: classic type with low viscosity and high penetration and thick type with medium viscosity and slow penetration!
The UV Resin is used in tying world by fishermen who don't want to apply multiple layers of head cement to obtain a nice and shinny body look for buzzers, streamers and heads for streamers. More than that, if you want to obtain a deep glossy body look of  your fishing flies you need to wait hours and to apply multiple layers of head cement to obtain   the desire look. With a resin that cures in seconds  when  the tier wants  a new door was opened in fly tying universe. These resins cures in UV light so until you will not expose the material  at this light (or solar light who contain UV light also)  the material will stay fluid. If you have enough power light the resin will cure in seconds and you will have a deep glossy look of your flies. Buzzers started to look fantastic, body streamers are nice and clear with a crystal class look and will not receive a yellow tint in time. Heads of big streamers will look fabulous and will have the desired shape. You can have scuds and shrimps with nice an transparent bodies in seconds. Until  now  without UV Resin these thinks where almost impossible  to achieved. Now is simple, easy and everybody can  do that without spending hours and hours in tying process. Another big win is  time! : with head cement or with epoxy you have to wait from minutes to hours to have a hard  body/head of the fly. More than that you have to rotate to have material applied in uniform layers. With UV resin you will finish a body of fly in seconds. No rotary gadgets  needed!
Trout Line succeeded to produce this resin in different viscosity. This is not new,  other products like Deer Creek,  Bug Bond or Loon are on the market . If somebody will ask what bring extra these resins the answer is  : not sure that are big differences between them. Based on our tests   the resins cure nice, transparent with a deep glossy aspect and without tack. Is just a similar product  but the price is more convenient!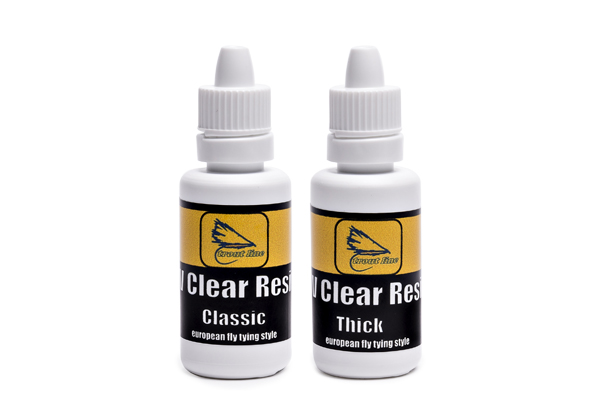 The tying UV resins are available in bottles of 15ml,  in sets with UV Laser Lamp  and in set of both solutions. So  there are 6 options to meet  fly tiers  needs.
Bellow is a set of Classic Resin with a UV Laser Torch that will cure  the resin in seconds. The light that works on these resin is from UV spectrum and the range is 390-410nm.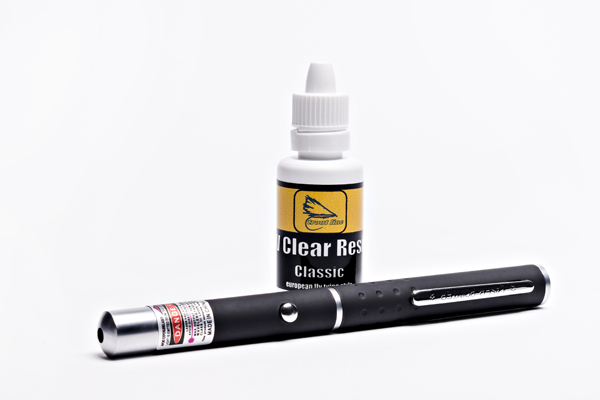 Bellow is a test where we  applied one layer of resin on a fly body made of natural peacock quill: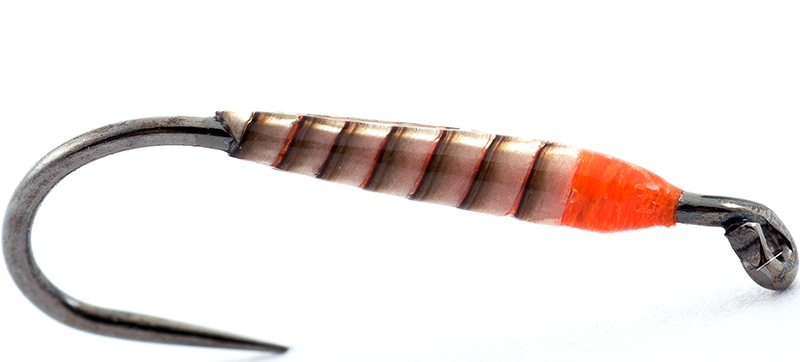 Even a closer look: