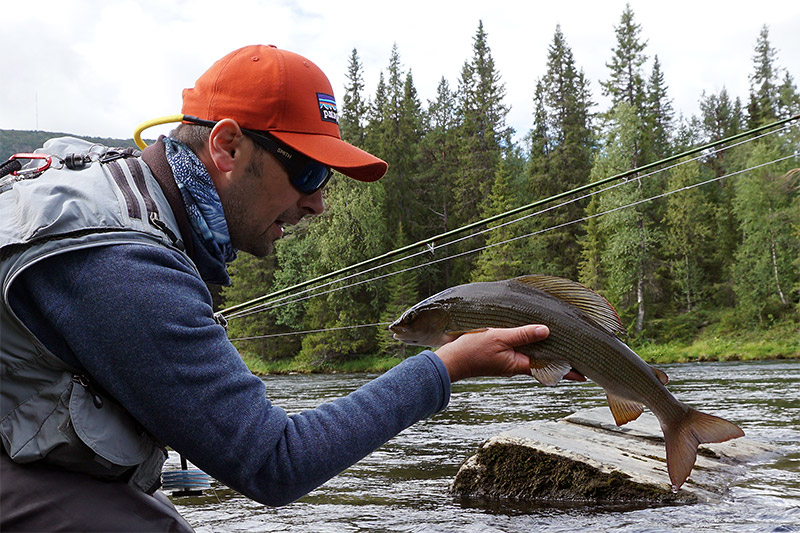 Ammarnas is a small town situated in Swedish Lapland. Located in Vasterbotten, the Ammarnas city and the surroundings became popular in fishing world because huge trout are migrating from the big lake named Storvindeln in the upper part of the Vindel river to lays the eggs. Another great attraction for this location is the great population of grayling fish. And if this is not enough it is good to know that you will find only wild fish ( trout, char, pike, whitefish-coregonus- and European perch). There is no fish stocked!
I visit this part of the river ( closed to Ammarnas ) because the surroundings are great and there is no traffic :). I always charge my "batteries" after a week spent on the beautiful river and lakes from this area.
If you want to fish in this part you have to take in consideration the period of your visit because the river stretches are crowded from August till middle of September. The big trout start the big Autumn migration. They go out from big rivers and are swimming to the upper part of the Vindel, close to the Ammarnas city to lay the eggs. In this period of time you have the chance to land really nice wild trout. Swedish fisherman, Italians, Finish guys are all over booking the best places.
I'm not a big fan guy of trout fishing ( especially when it comes of 2hand rods ) and I prefer grayling fishing so I try to avoid the August and September. Usually in September and August the water levels are constant but the rain can increase the rivers and fishing will be difficult. I prefer to go in July even if is risky to met the high water especially in the lower parts… It is not easy to locate the grayling but your search will be rewarded with nice fish up to 60cm 🙂
I always like to visit the local fishing stores from Ammarnas and Sorsele because the guys. Especially the Ammarnas guiding center is very nice and cozy. You can chat with local fishermen there or with turists, listen a few stories and drink a good coffee: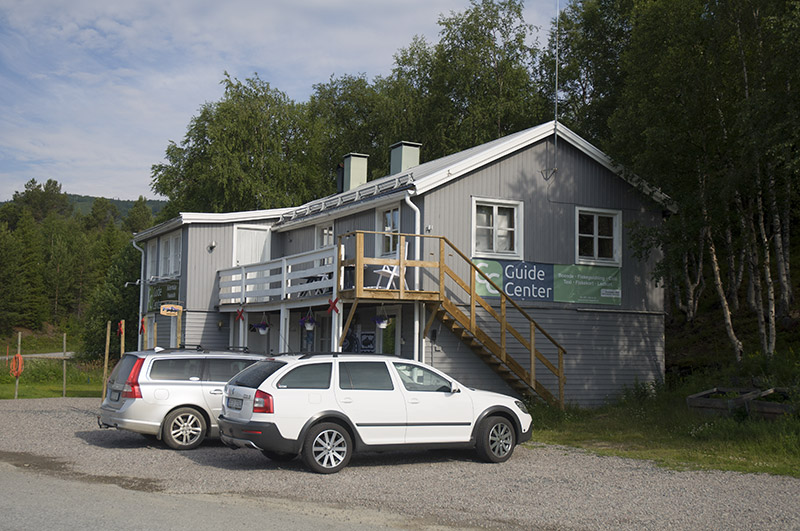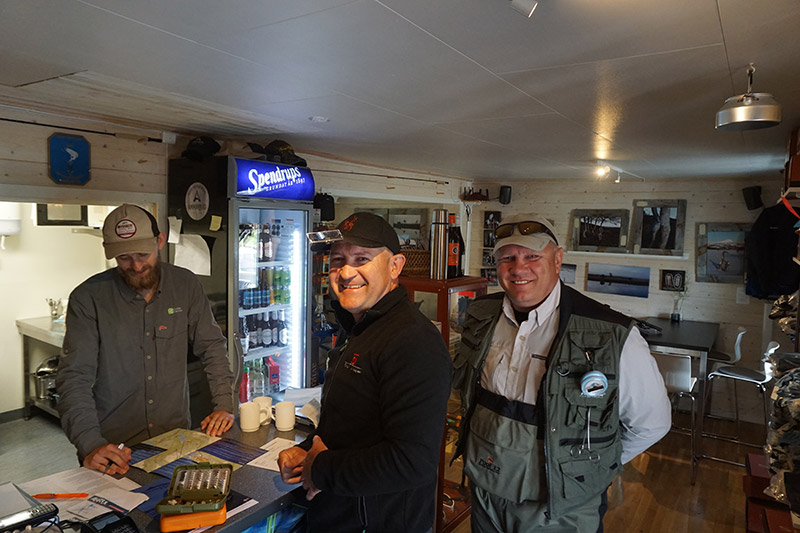 You will find there a plenty of flies, lines, rods and equipment if you need something, so I recommend to visit the spot 🙂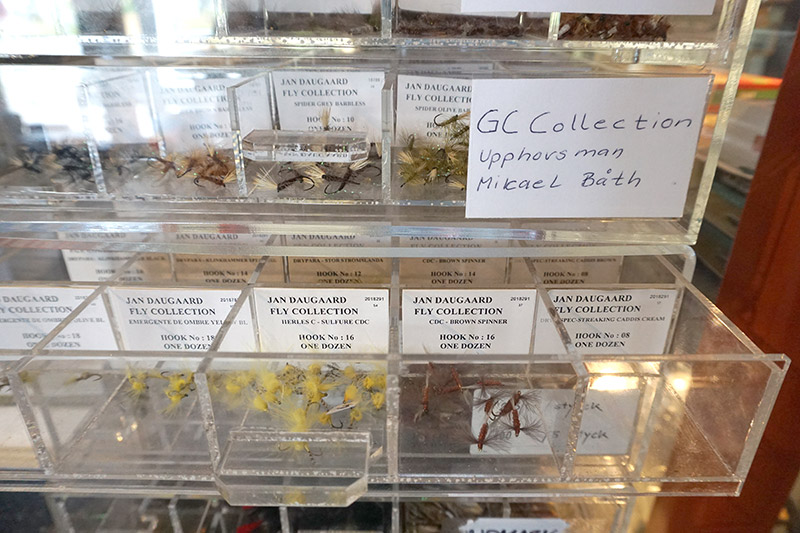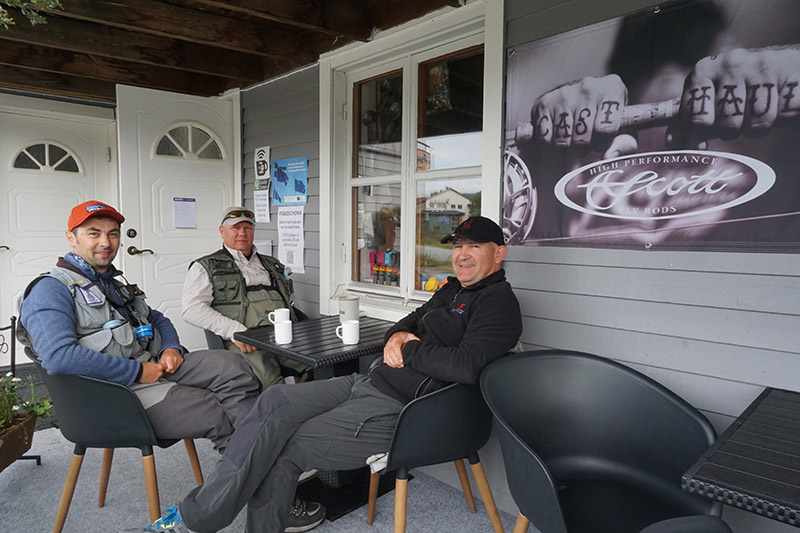 After a short break and chat with locals I prefer to go first on my favorite spot called Sjoforsen: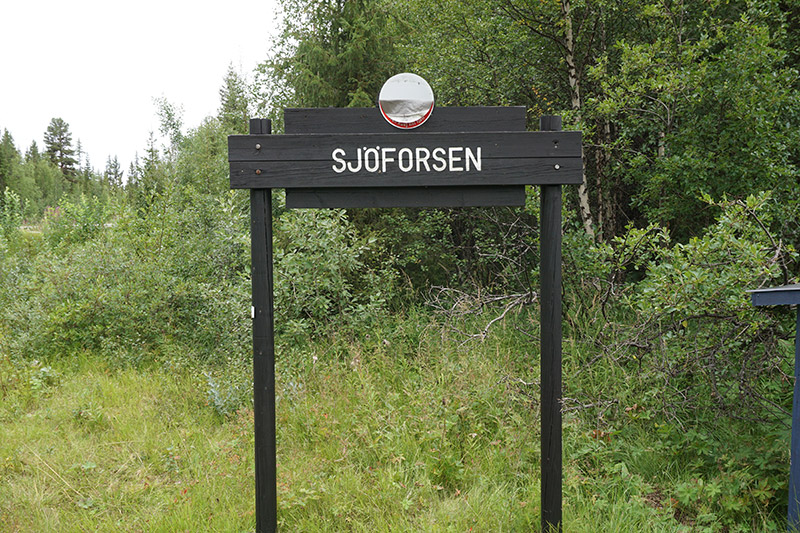 It is a nice place close to the road with a small wooden lodge to rest or sleep if you fish in night.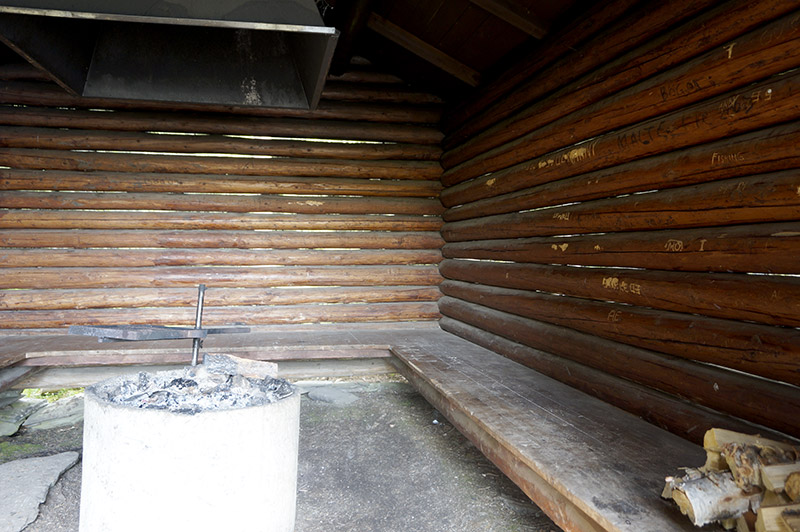 You can take a brake, make a wooden fire, drink a tee or a coffee and chat with your friends if is rainy. The cold fresh air and the great company with good fishing moments is what I always enjoy in this part of the world.
The river Vindel is not so big there, at Sjoforsen, practically here is the upper part of it. But take in consideration that this river has a length of aprox 450km and lot of tributaries. It is one of the biggest river from Sweden! Even so, in the upper part, in years of fishing I was not able to change the river bank from one side to other on foot. I needed always to use a boat. Deep pools with super fast stretches are all over, and of course these are the reasons for such healthy fish population: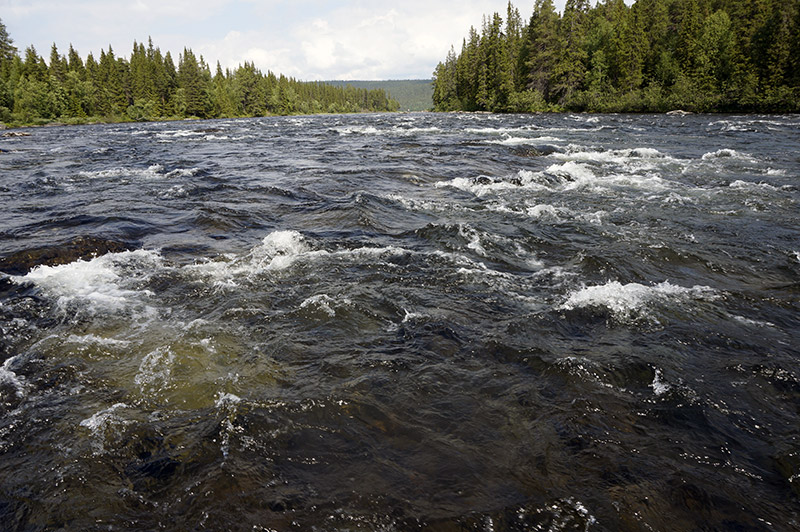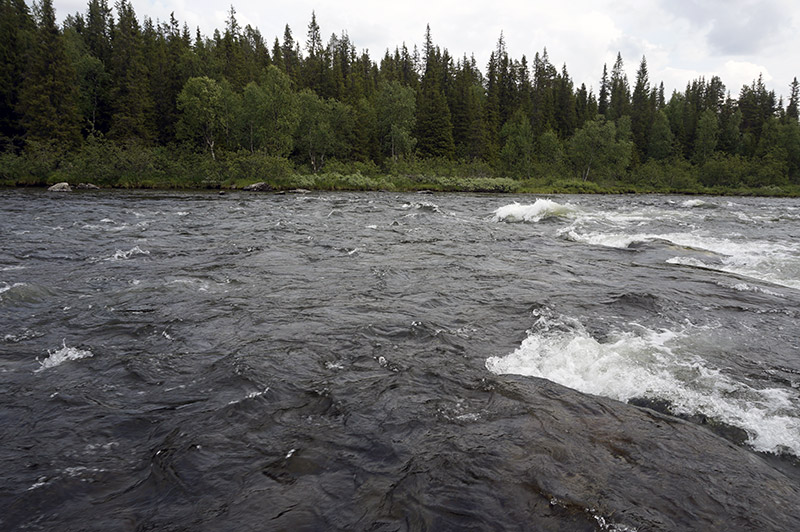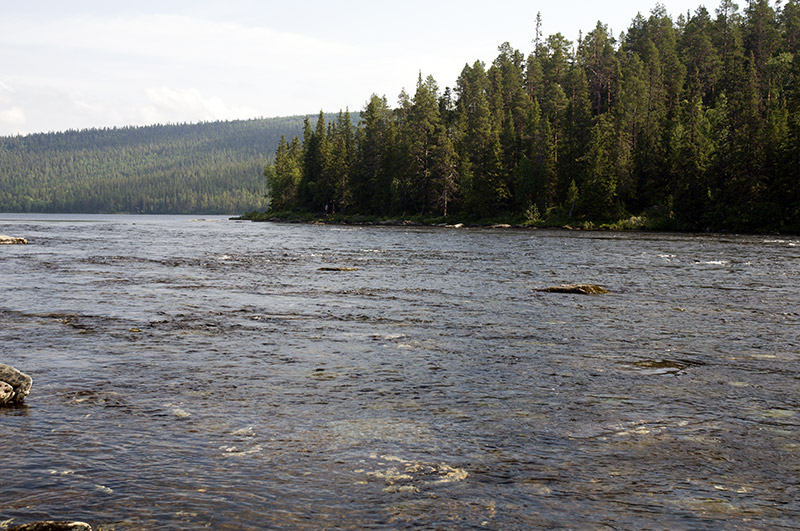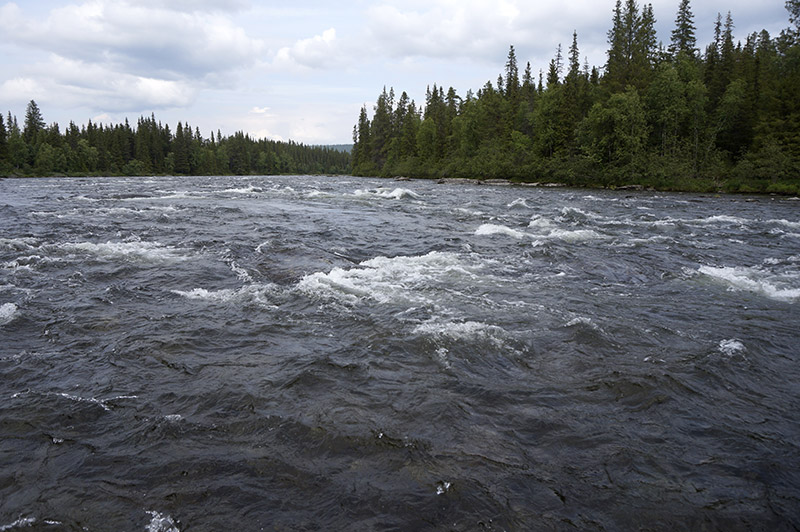 If you have all day sun outside you will enjoy dry fly fishing early in the morning and late in the day. But for me rarely happened. Almost I fished there on 10 Celsius degrees with light or strong rains.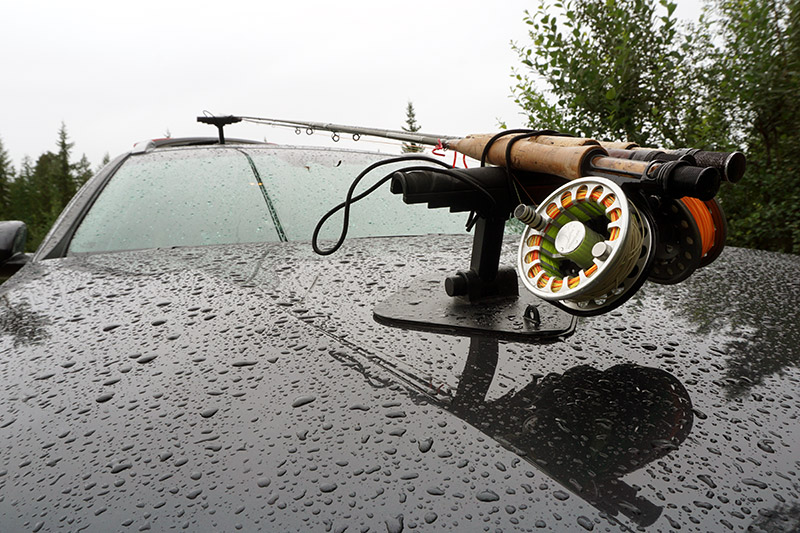 Even in these conditions, fishing is good and I was able to catch nice grayling on nymphs , streamers and dry flies. I never met big hatches of insects followed by fish feeding frenzy but I was delighted all the time. When the sun light started to light the river bank I usually start to fish with sedge flies close to them. Grayling are all over in this part of the river and I always had a big smile on my face: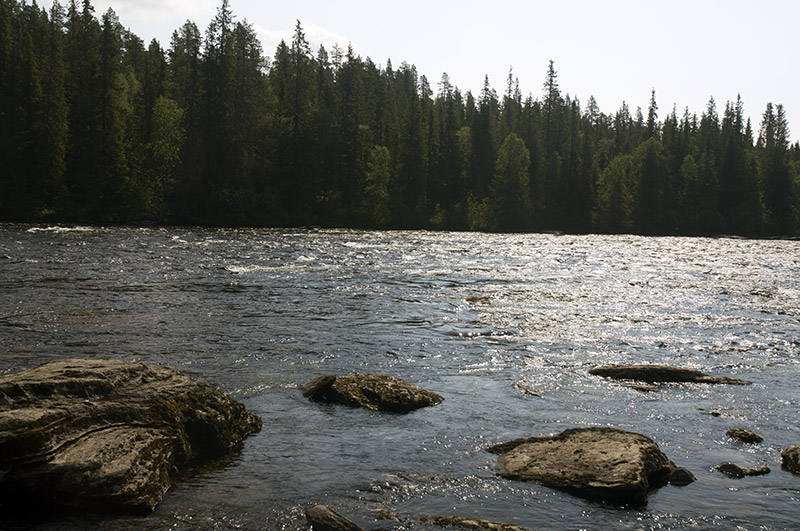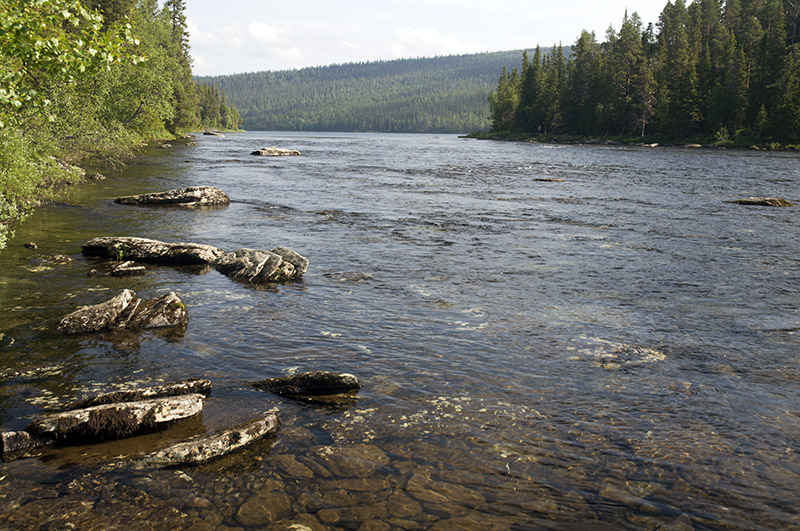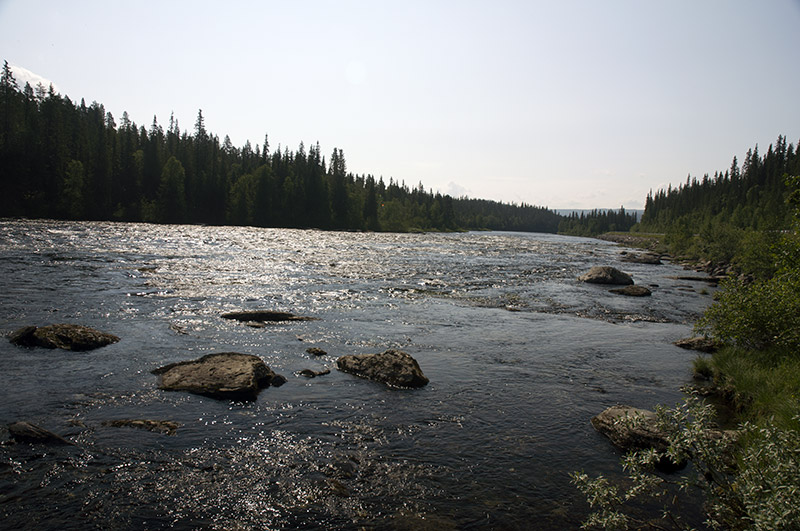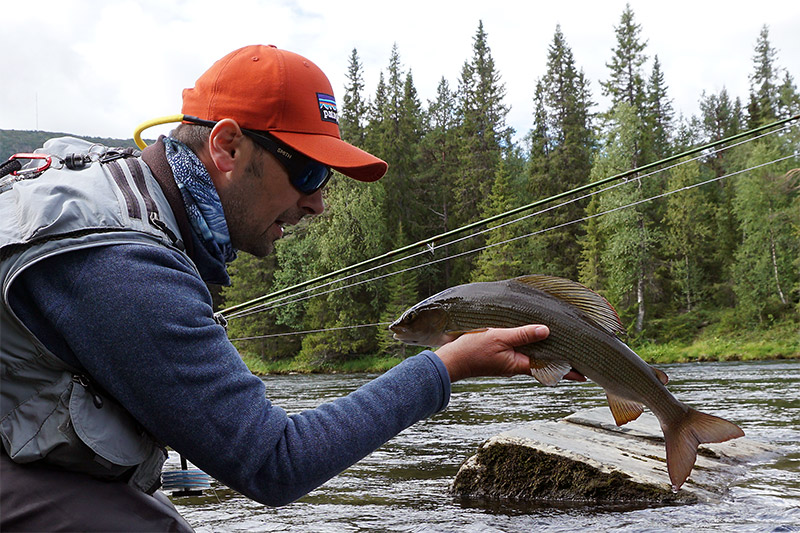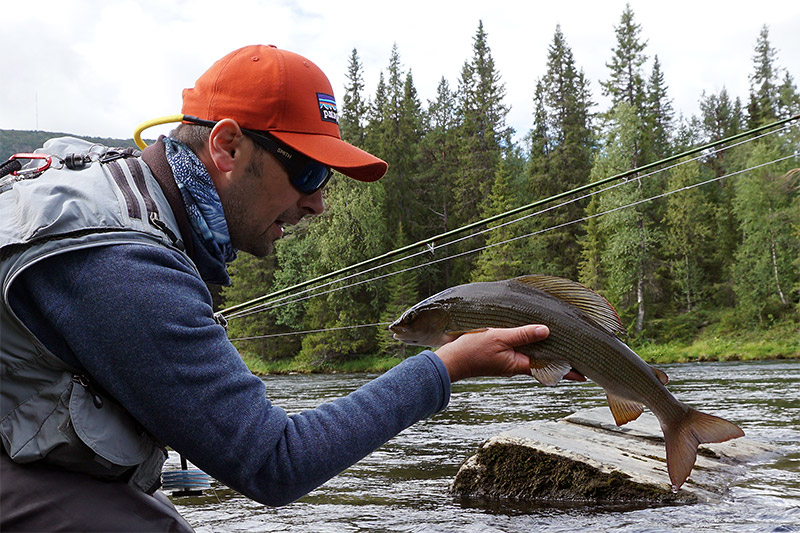 Fishing with nymphs is very good but you have to search the upper part of the micro-pools and micro-currents, to understand the water and "feel" it. Otherwise you will not be able to locate the fish or you rill scary the entire grayling school. The fish are educated, catch and release is the rule there and big fish are shy.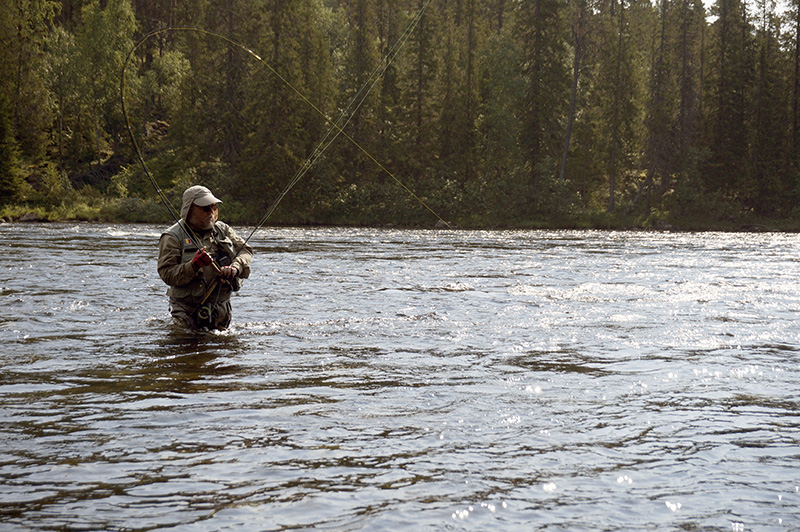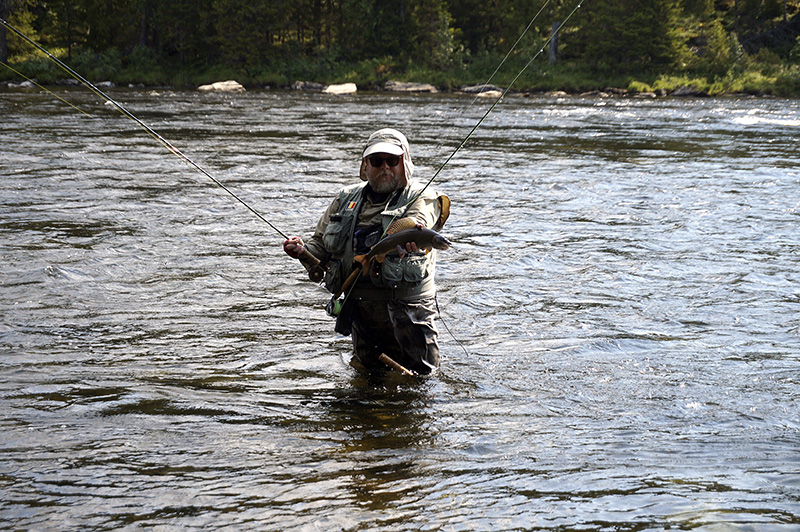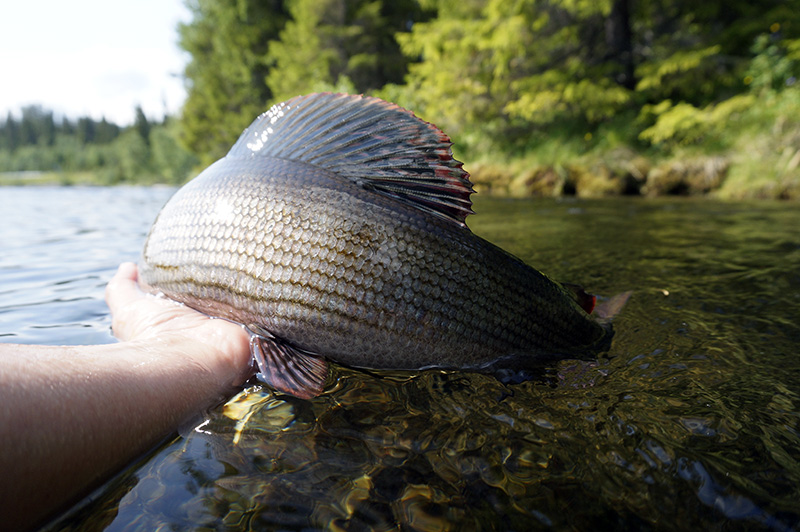 On the right side of the river you will find more grayling and trout are more often on the left side.
Being focused on grayling I caught only small fish , up to 35-40cm.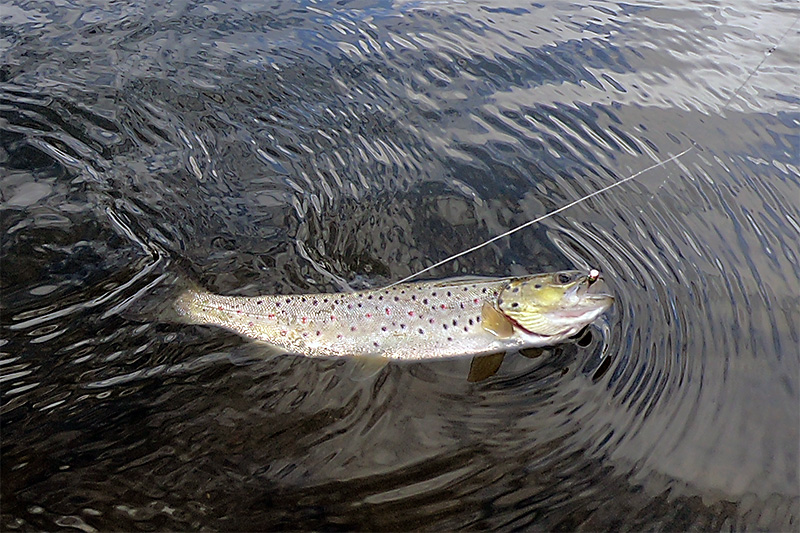 I had a few big trout on my nymphs, even with fluorocarbon size 0.2mm I was not able to stop that trains. I often went in backing and start running on the river bank to avoid the break but I was not able to see at least one trout. They where too big … 🙂
Practically these big trout are feeding in night, I only hooked them by accident when I went for grayling. I never had a real chance to catch one and to be prepared for the fight in the right way.
I enjoyed grayling fishing even with streamers, it is interesting and strong fighter. I had fish over 40cm and I believed that I caught fish over 60cm. I do not know if is only my subjective feeling but I belive that grayling are stronger fighter when they take a streamer.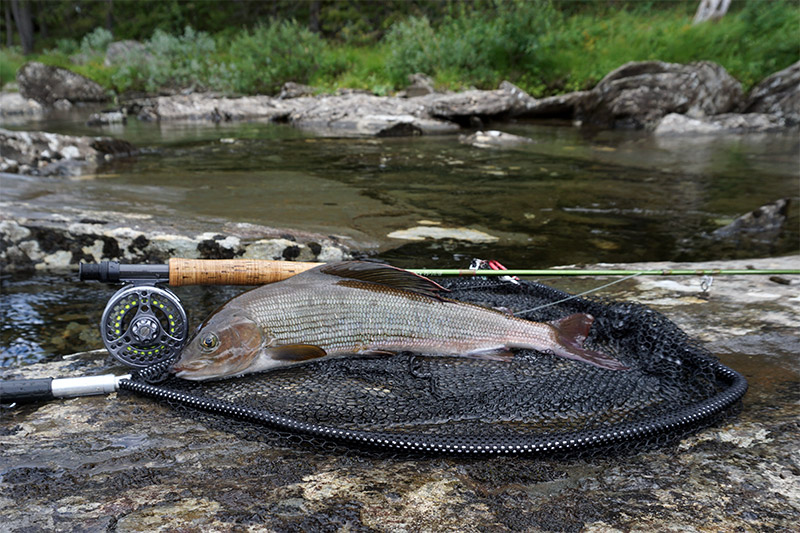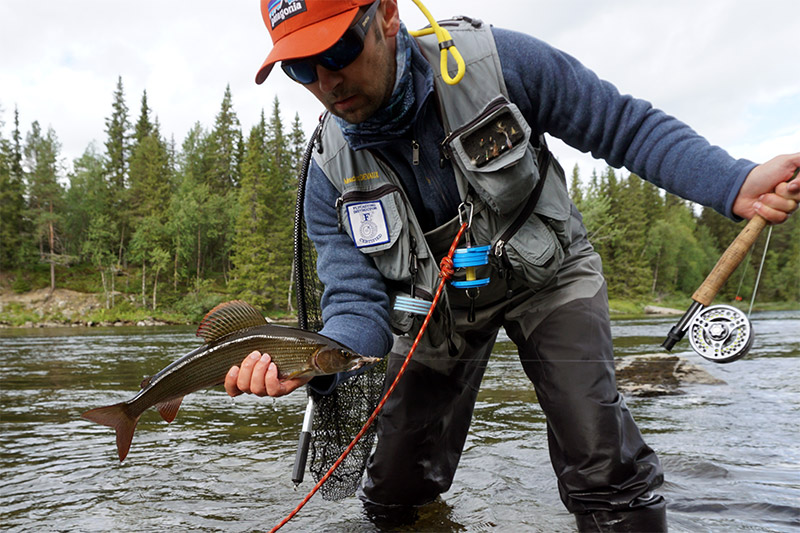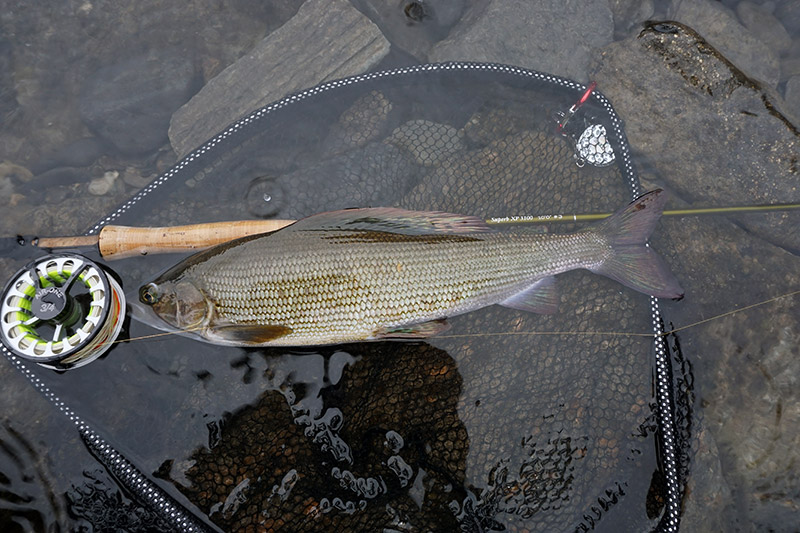 If I talk about sizes and style used I think streamer fishing is producing the biggest fish followed buy nymphing and after that by dry fly fishing.
Dry fly style is really nice and comfortable there, is not difficult to cast, you have plenty of space to cast as you like. Of course you will catch big fish but mainly under 40cm: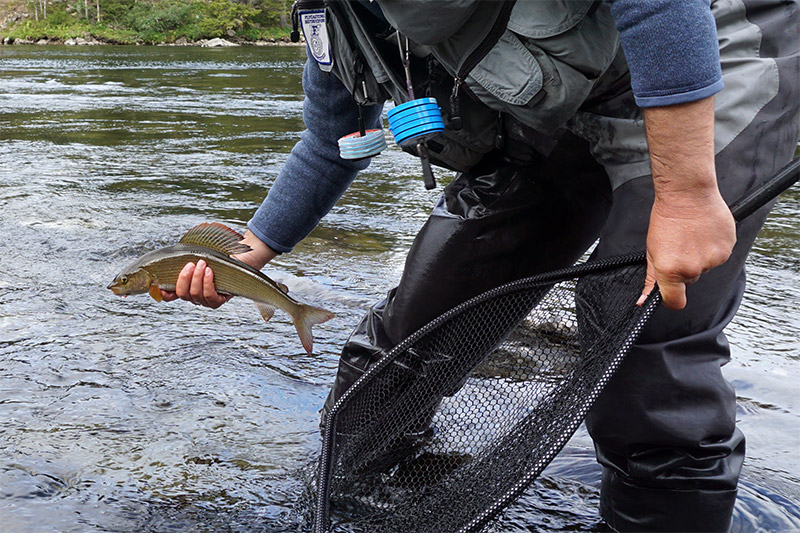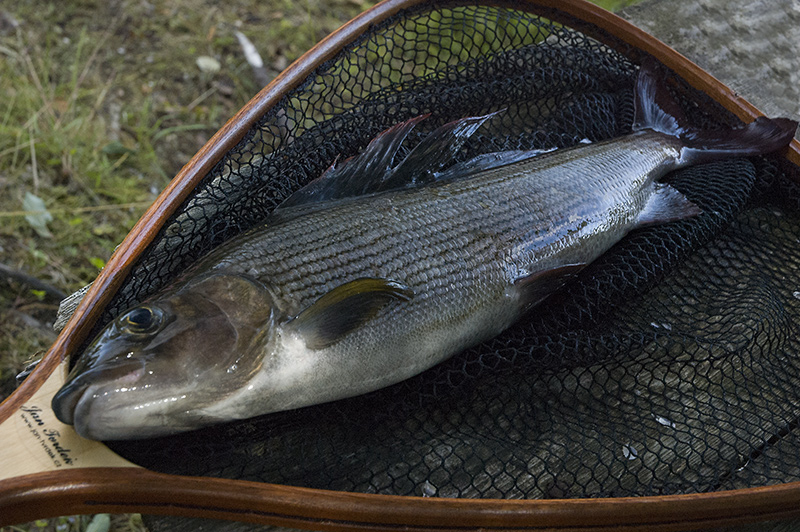 When I visited first times these places I always made a big mistake. Wake up early, drive from Sorsele for almost 100km and start fishing at 9am. At 10pm I was tired like hell. Fishing in strong light of the Summer Lapland time is difficult and any fisherman will get tired. I agree that fishing early is great for grayling but fishing late in the day, after 10pm is absolutely fantastic.
I recommend to fish on the second part of the day to have enough energy to fight with big fish from middle night moments. But is you do not like to miss early morning fishing then is better to take a small nap in the fishing lodge.
Then you will have enough energy to fight with big ones 🙂