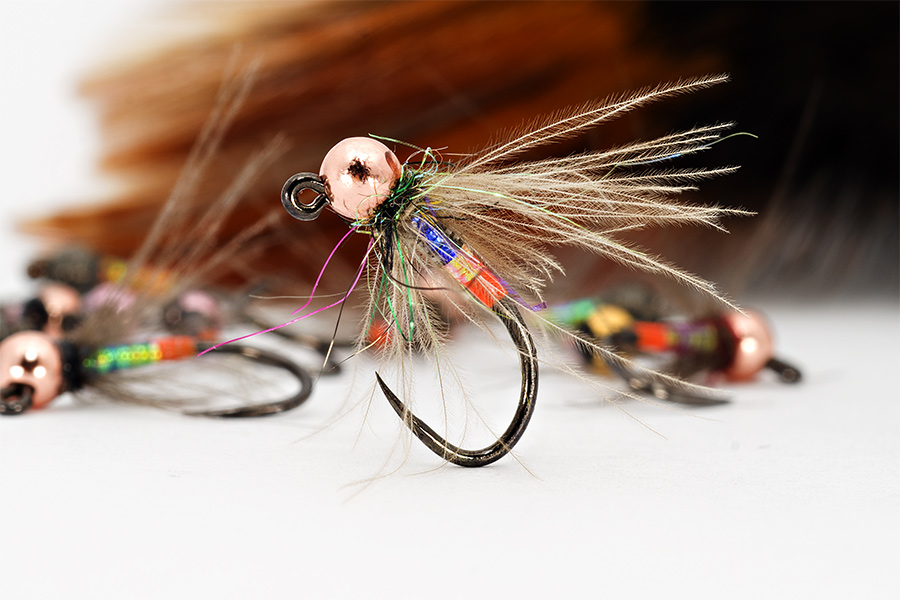 Perdigon Jig with CDC is a strange hybrid  based on perdigon  type of flies. I like perdigon nymphs, especially perdigon jig because:
they sink fast like a rok
easy to tie
 very fast to tie
economic fly – not fancy materials, just thread,  bead,  barbs for tails and maybe some uv ribbing sometimes
perfect for fishing in super fast flowing currents where other flies  just don't work
Sometimes at perdigon nymph  has a small minus when we use in medium running rivers. Trout or grayling will take it at the first or second cast then  they will "learn" the fly quickly . In these situations you need to use small and very small  perdigon nymphs and the fish will start taking them again. Another option for me was to change something in fly design
Based on these facts I tried to "improve" a little bit this fantastic Spanish nymph. I tried to find a material that gives a little bit of movement without modify the sinking speed.
The only material that I found is CDC:
it is light
it is translucent
no water resistance
vibrant
full of movement
creates a nice hallow to the fly
I tested  a few days only in some rivers in Lapland. At the first casts I used  a perdigon and when the fish stopped I switched on the same fly tied with CDC collar.  I started to catch again and I was very happy !  Of course I need more days, more rivers , more colors to test but I can say that I'm really impressed by the fly efficiency!
Materials used:
Hook – Demmon ST 320 #12-18
Thread- orange Uni and black Uni 70 Denier
Body made of thread covered with Troutline Perdigon UV Flat Tinsel
Coated with UV Resin – Troutline Classic
Hackle – made of CDC
Thorax – just a pinch to keep fixed the CDC and to avoid slipping over the body