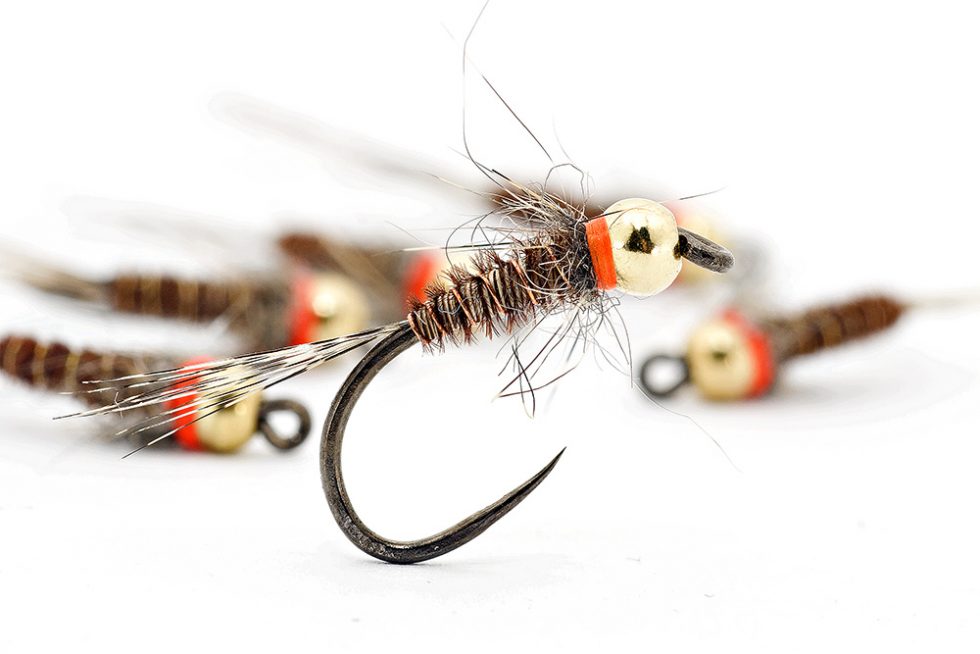 Tying Materials:
Hook: Demmon 633 #12-18
Thread: UTC Orange 70 Denier
Body: Pheasant barbs
Tail: Coq de Leon  Flor de Escoba
Thorax: Mad Rabbit Dubbing in Natural color
Hot Spot – UTC Tying thread – orange
Ribbing: Wire
Bead: Tungsten in gold/silver/black /copper color
This interesting nymph called PT with orange Hot Spot is probably the "modern" model  from history of nymphing. As you know the Czech nymphs where the first fishermen that used and made  flies with hot spots in"strong and strange" colors like orange, yellow, chartreuse,  purple and blue. 25-30 years ago.
PT with orange Hot Spot nymph is a simple version of classic bead head pheasant tail minimized  to be tied faster and to be more effective  compared with the classic old model. A "pinch" of hot color added in the classic recipe of the fly seems to  increase the curiosity of the fish and the flies tied in this way became more and more popular.  For this reasons this model started to be a "must"  for every fishermen who love to fish using nymphs.
PT with orange Hot Spot Nymph can be tied  by any  tier no matter if is a beginner or an advanced.  You should  have  a few in your box, tied in different sizes and also with different hot spotted colors. The fly  works from early Spring till  late in Winter. Light colors are more effective early in fishing days and dark colors seems to be on the fish taste late in Autumn and Winter. Same rule works for hot spots: orange and chartreuse early in Spring ,  dark orange, hot red and dark red in Summer and Purple and Blue in Autumn and Winter time.