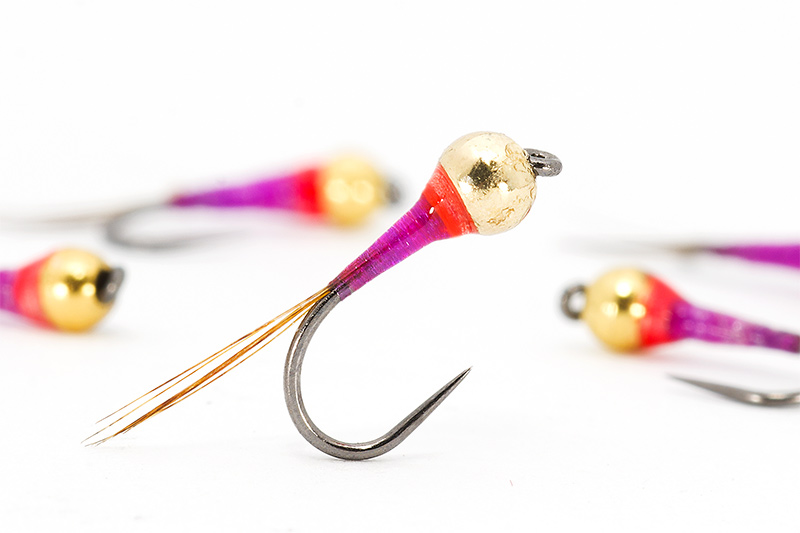 Grayling Purple Candy Perdigon is a simple and super colored nymph dedicated for fishing grayling in cold rivers. It is a stimulator type of fly,  usually grayling is very active and curious  late in Autumn and in Winter time.  The fly should be used in tandem with other nymph colored in tones closed to natural insects.
Materials used:
Hook Demmon DSD110  #14-20
Body- Purple Hends Body Quill
Tail: Coq de Leon Rubion
Thread: 17/0 Uni  which is transparent, in this way will not interfere with the quill color
Hot Spot: hot orange thread
Coating: UV resin – for a while I prefer the Perdigon resin which is very thin and do not make the body thicker.
A lot of guys asked me why I use Perdigon resin and why I consider it better compared with classic resin which are more dense and viscosity  grade is higher. Here is my answer: coats very fast,  do not trap air bubbles, liquid tension is very low and that means  a high  overlay grade. Less  liquid used, high penetrating grade in material,  is semi-elastic means that will not crack easily and is durable.
You can see in photo how slim and tapered is the body, with one layer of resin. Personally I do not like thick bodies loaded with lot of UV Resin. I fish with small and very small flies with thin tippet and I prefer to have my flies  close to the bottom without  big tungsten beads. A  nymph with thick body will sink slower and will bump from a stone  to another in large loops. Sometimes  the fish will not take those nymphs instead something slim and close to the bottom will be more effective.